Next:
OX Local Data
Up:
$B?t(B, $BB?9`<0(B $B$N(B CMO
Previous:
$B:F5"I=8=B?9`<0$NDj5A(B

#define CMO_64BIT_MACHINE_DOUBLE   40
#define CMO_ARRAY_OF_64BIT_MACHINE_DOUBLE  41
#define CMO_128BIT_MACHINE_DOUBLE   42
#define CMO_ARRAY_OF_128BIT_MACHINE_DOUBLE  43

Group CMObject/MachineDouble requires CMObject/Primitive.
64bit machine double, Array of 64bit machine double 128bit machine double, Array of 128bit machine double

CMObject/MachineDouble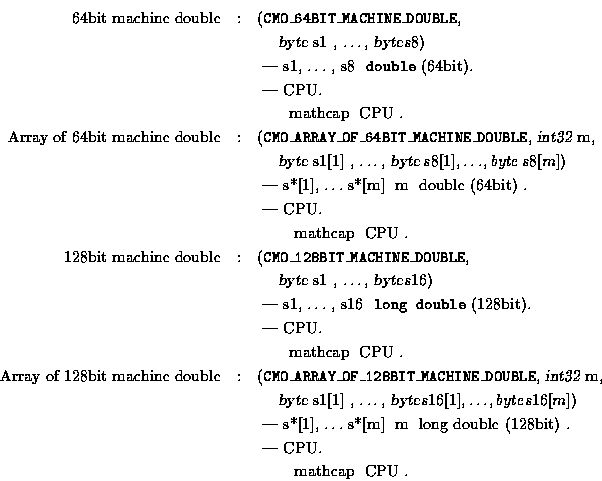 $B<!$K(B IEEE $B=`5r$N(B float $B$*$h$S(B Big float $B$rDj5A$7$h$&(B.

#define CMO_BIGFLOAT   50
#define CMO_IEEE_DOUBLE_FLOAT 51

IEEE $B=`5r$N(B float $B$K$D$$$F$O(B, IEEE 754 double precision floating-point format (64 bit) $B$NDj5A$r8+$h(B.
Group CMObject/Bigfloat requires CMObject/Primitive, CMObject/Basic.
Bigfloat

CMObject/Bigfloat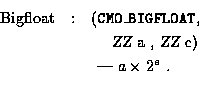 ---
Nobuki Takayama $BJ?@.(B12$BG/(B1$B7n(B25$BF|(B